So what causes obesity? Today the obesity spread incredibly in the USA and developed countries. A lot of people are fat, a lot more are overweight. People are constantly trying to lose weight with diets but they cannot. They try all sorts of methods but they cannot succeed.
Worst part of the issue is that a lot of crooks are trying to help to lose weight for these desperate people with ridiculous herbal therapies, exercise equipments and with methods which do not have any MEDICAL and scientific basis and these crooks earn billions of dollars from these.
The problem is not obesity alone. When you look around while you are in the street, even if you do not see fat people, you see people who are in their 25's who gained weight, their faces are wrinkled, aged and frayed. These people also look like 60 years old when they are in their 40s and none of them are in shape.
The prevalence of cancer and heart disease in developed countries are another issue. Today MEDICINE developed incredibly. But despite all these it is hard to deal with diseases. Unhealthy people are wandering in the streets.
Nutrition principles which you will read in here will assist you to get rid of your overweight, have the body shape you desire and stay away from diseases. Especially away from cancer, heart disease, Alzheimer and Parkinson diseases.
To lose weight you need primarily the will and knowledge and not expensive equipments or miracles because knowledge is power and if you have the knowledge, you can chart out your own way. Therefore I am going to tell you how this diet will work, nutrition, energy system, and historical evolution of mankind before explaining how to perform this diet.
At first, let's get to know the macro nutrients including fats, proteins and carbohydrates:
Even though fats have a bad reputation, they are very important for the body. The most important task of fats is to provide energy to the body, absorb vitamins A, D, E and K, form cell membranes, protect the organs, and provide the growth. Omega 3 and 6 fats must be taken from outside since they are not produced in the body. Fats are the preferred choice of energy source in the body.
1 gram of fat provides 9 calories. There is a fat storage for tens of thousands of calories in every person's body.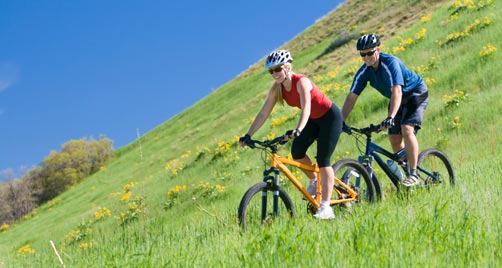 Proteins are formed by amino acids and are the building blocks of life. 9 of them need to be taken from outside and there are 20 amino acids. Proteins have many critical functions in the body.
These are: repairing, creating and provide the continuity of the body tissues, creating all the enzymes and hormones, creating the immune system, providing growth especially in children, adolescents and pregnant women. When carbohydrates and glucose are not taken into the body, the excess protein converted to glucose by 58% rate. The name of this process is gluconeogenesis.
Protein is available in meat products, dairy products and in legumes.
And, the only task of the carbohydrates is to provide energy to the body. They are not necessary for the body apart from this. So, you cannot live without consuming protein and fat but you can live without carbohydrates. Carbohydrates are in two types, including simple and complex. Simple carbohydrates consist of one or two sugars, and complex carbohydrates consist of a combination of a series of sugar.
For example, cube sugar is a simple carbohydrate however starch is complex carbohydrate.
At the time when you consume carbohydrates, this is converted to glucose (sugar) and the blood sugar raises. Glycemic Index indicates how quickly a consumed carbohydrate raises your blood sugar. Sugar in the blood provides energy to tissues, muscles, brain and all body but is toxic in high doses and cause damage to the tissues.
Therefore insulin immediately sends the sugar to storages in liver or muscles to reduce the blood sugar to a normal level. Glucose is converted to glycogen in here. This process is called glycogenesis. About 100 grams of glycogen can be stored in liver, 400 grams in muscles in a normal adult. This is equal to 2000 Kcal.
If there is no place in these storages, insulin converts the glucose to fat and stores it in fat cells. This process is called lipogenesis. When the glycogen will be used as energy, it is converted back into glucose.
Carbohydrate foods are: all sorts of sugar, sugary foods, flour, wheat, all kinds of bread, all kinds of cakes, pies, honey, jam, nutella, fruit…
Energy Systems
Naturally our muscles need energy to work. ATP provides this energy to our muscles. ATP is the energy of the muscles. Our body uses 3 different systems to produce ATP. These systems are also separated into two, including anaerobic and aerobic.
Phosphagen System: Muscles are forced to produce too much power in short term and very intense activities. Phosphagen system is the fastest way to produce ATP. ADP reveals when ATP is used as energy.
Creatinine Phosphate forms ATP again by giving one of its phosphates to ADP. Thus, the energy reveals. This is an anaerobic system because no oxygen is used. But the KF storages inside the muscles are very limited and consumed in about 10 to 20 seconds. And muscles are getting tired quickly. This means that this system is used only in activities which are short term and needs very high density.
For instance while you are lifting a very high weight, running 100 meters or suddenly sprint while you are playing football… The phosphagen system is not used in long term and low intensity activities.
Anaerobic Glycolysis: Glycogen in the muscles and a certain proportion of glucose in the blood used by the muscles to produce ATP. Glycolysis is the fuel of middle-high intensity activities which can be from 20 seconds to 1.5 minutes. Glucose is converted to pyruvate with a series of chemical reaction during glycolysis.
In this way, 2 ATP is produced for each glucose molecule. After this step, pyruvate is converted to acetyl Coenzyme A which will enter into mitochondria for oxidation if there is oxygen or converted to lactate (not lactic acid) if there is no oxygen, i.e., there is less oxygen than the needed oxygen that muscles need.
If not enough oxygen is produced to meet the needs of the muscle there will be an increase in hydrogen ions and this causes a fall in muscle's PH level and allows acidification. Therefore you will feel your muscles burning and you cannot continue to exercise. This is the main reason of the burnings which thought it was caused by "lactic acid" in the past.
This system produces more total energy but also slower than the phosphagen system. All in all, body uses the anaerobic glycolysis system in medium-high density activities which can be from 20 seconds to 1.5 minutes. As you notice glycolysis system only uses glucose/glycogen which is a carbohydrate.
Aerobic System: The body uses glucose and fat to produce energy in aerobic systems. Aerobic system is suitable for low density activities and is used when there is enough oxygen to meet the needs of the muscles. As I mentioned just now, glucose is converted to pyruvate and pyruvate is converted to Acetyl Coenzyme A and then enters to the Krebs cycle.
As a result of this cycle ATP and water are produced. Krebs Cycle produces 36 ATP molecules for every glucose molecule. It produces more total energy in a longer time when it is compared with anaerobic glycolysis despite using the same fuel.
The fat is converted into free fatty acids by taken up from the place it stored and then converted to Acetyl Coenzyme A in the mitochondria and produces ATP by entering into Krebs cycle. Fatty acids produce more energy than glucose does. For example, the Krebs cycle produces 129 molecules of ATP when it uses the fatty acids.
Normally glucose usage increases as the density of the activity increases and the fat usage is reduced. But some people (you'll be one of them) use fat more than glucose in each activity level according to other people…
Result?
If you are not a professional athlete or participating in games as an amateur or if you are not seriously interested in any sports probably you are using the aerobic system to run your muscles in the large part of your daily life.
You're walking home from work or school, you carry documents in the office, you go out for meal, you go shopping, you drive a car, you clean your house or you are going for a walk with your child. All of these are getting fuel from the aerobic system. Maybe you carry a heavy burden in your home or you run to catch a bus and you use the glycolysis system at maximum but it is very occasionally. I told you that the aerobic system obtains the energy from glucose and fats and how much you burn fat and glucose differ from person to person.
Well, how can we provide the use of a large amount of fat for our body's aerobic system?
You are feeding yourself with carbohydrate foods for years and your body set the usage of fats for energy as the second plan. How can we achieve this? I will tell you this in detail in the article and you will turn your body into a fat burning machine. But before it, we will continue to learn.
Evolution
Our first ancestors which we can define as human appeared about 2.5 million years ago and was fed with vegetables, fruits, and roots at the beginning and began to eat meat in that period. According to many experts consuming protein together with eating meat has enabled the development of the brain.
During these 2.5 million years, people obtained their energy almost always from protein and fat. Already, our daily activities were low density and our glucose (carbohydrates) need was very little. Our body used to produce enough glucose from protein. While the preferred energy of our brains is ketones and they are obtained from fats, there was no need for glucose.
Body used to meet its energy greatly from aerobic system. Sometimes glycolysis or phosphagen system was used in hunts or to escape from wild animals.
Carbohydrates were extremely rare. Sometimes people used to find honeycombs or ripe fruits and they used to eat them as far as possible to fill their glycogen storages, and stored fat. So that people with the most eager to eating carbohydrates were able to continue their lineage.
People began to agriculture 10,000 years ago. This means that carbohydrates such as bread, grain, potatoes, corn, and oatmeal entered to our life in this period. 10,000 years may seem long but it is a short period for evolution.
We are consuming the sugar about the last 250 years. While our body used to reach to carbohydrates rarely over millions of years, now in our age they do not know what to do when they get 300-500 grams of carbohydrates in each day.
Food was not like as it is today in the past. People could not find food all the time and when they do, they used to eat as much as possible and they had to store the excess energy as fats. Otherwise people would die until they find another food. That is why we store the consumed calories as fat.
But the problem is all kinds of food are available today and we can eat them whenever we want and store fat constantly. We want carbohydrates a lot and we can have them as easy as to going to a grocery store to get chocolate which it was very difficult to find carbohydrates in the past.
And then?
Today we consume carbohydrate foods in our every meal and continuously. Bread, pasta, rice, potatoes, sugar, chocolate, baklava, pizza, pita bread, pastry, and a lot more.
Thus carbohydrates constantly enter to our body. Even human is programmed to do the daily work by burning fat evolutionarily, glucose is burned even in the simplest, low density activities because the constant flow of carbohydrates in the body. With the logic of "Anyhow carbohydrates are coming constantly. I'll use the glycogen stores.
I should not touch the fats, it may be useful in a famine or something else" and because sugar is toxic in large quantities, your body reduces fat burning to a minimum for the energy.
Thus, we constantly feel hungry. The total capacity of glycogen storages are 2000 kcal and this is running out very quickly. The body which accustomed to carbohydrate wants more carbohydrate with the hunger signals. In that time, our energy diminishes. However, fats in the body almost have limitless energy. There are at least 5 kilos of fat in an athlete who is 80 kilos and this equals to 39000 kcal.
Shortly if you turn back to your natural state to program your body to burn fat, you will not have these problems. You will not be hungry since you will have energy all the time and you will consistently feel yourself fresh.
When you eat something with carbohydrate, your blood sugar rises. Insulin activates since sugar is toxic. Insulin tells to fat cells to use the fat for energy and cells should absorb the sugar. If the food you eat foods with high glycemic index, insulin will be secreted as that much and thus your blood sugar drops immediately and you will feed hungry again.
Insulin has also aging and carcinogenic effects. And the worst part of the situation is cells which are constantly exposed to insulin are gaining resistance to insulin over time. So insulin becomes inadequate to decrease the blood sugar and body is forced to release more insulin. If this goes further type 2 diabetes occurs.
Type 1 diabetes begins in birth. The sugar is not produced in these patients but type 2 diabetes is occurs afterwards and this time insulin does not work although it is produced. But anyway storing fat in the body and the impact of not using these fats continues.
As a child, everyone is usually thin but with age people gains weight and frays. Because cells acquire resistance to insulin over time and as a result of more insulin secretion burning the fat gets harder, and it is easier to store fat.
As I said before people who wanted to consume carbohydrates a lot survived and therefore we love to eat them. As we eat foods such as bread, Nutella, honey, jam, cookies, chocolate and so on, we want to eat more; they are always in our mind. However there is no such a problem like this in foods with fat and protein.
The thing you need to do is to drop your daily carbohydrate intake below 50 grams for a while. And thus you will wake the sleeping fat burning mechanisms in your body.
Also your body will enter into the ketogenic mode and your brain will start to use the ketones which are produced from fats instead of glucose. Remember that people lived in this ketogenic mode for 2 million years and this is the natural one. It is also known that ketogenic mode is good for many diseases but mainly for Alzheimer and Parkinson diseases.
And after this stage you will not get weight by increasing your carbohydrates need a little bit, and consume them in your level of need. So that you will use the fat in a large part of your daily activities and you will get rid of your weight.
A Few Experiments
I'll show you a few experiments detecting the effect of low carbohydrate diet on the body in the following.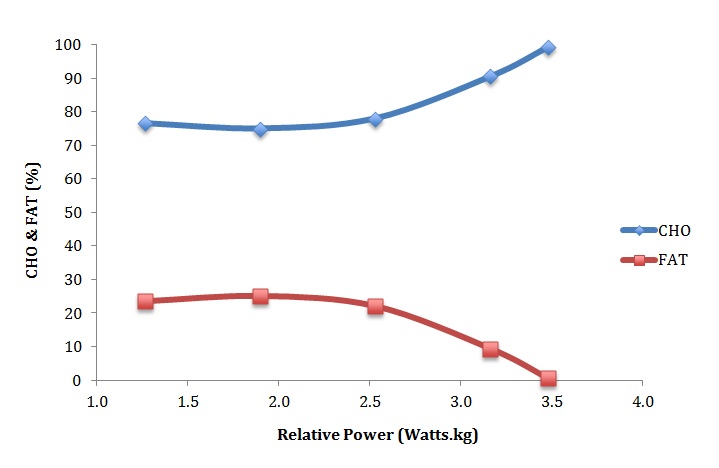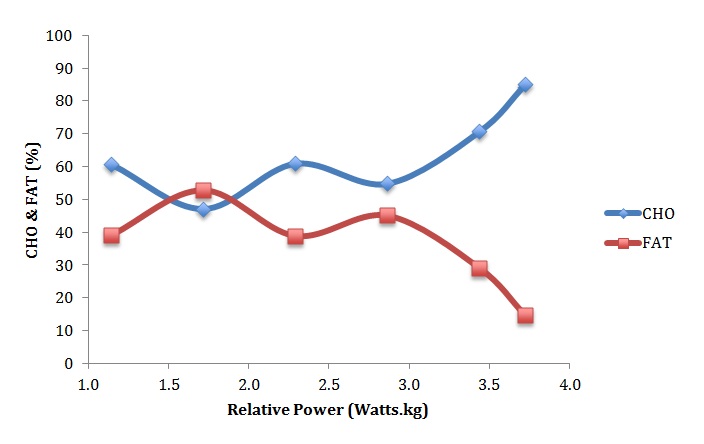 The blue line expresses the carbohydrate used as energy and the red line expresses the fats in the graph and the produced power is in the bottom line. In the first graph, you see the ratio of fat and carbohydrate used during the aerobic exercise of the first athlete. As the athlete's produced power (watts) increases during the exercise, use of fat falls and carbohydrate (glucose) usage increases.
In the second graph there are the values of 2nd athlete. The 2nd athlete produces more power and uses much more fat and less carbohydrate when it is compared to the first athlete.
After receiving these values, athletes are applying low carbohydrate diet for 10 weeks. Calories are not restricted. Only daily carbohydrate intake is reduced to below 50 grams.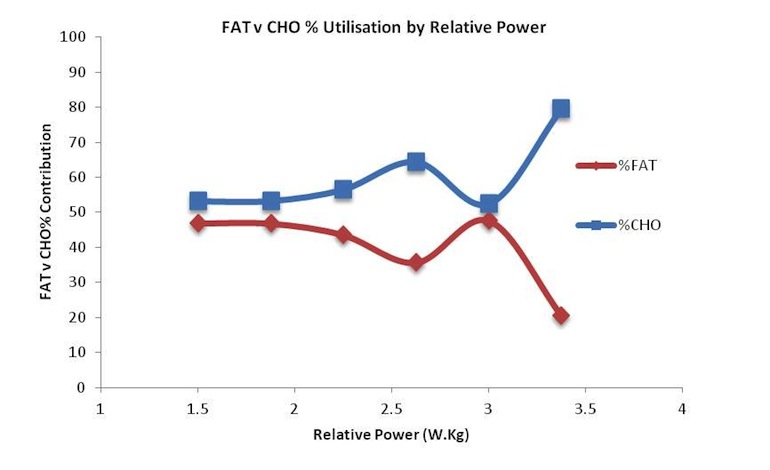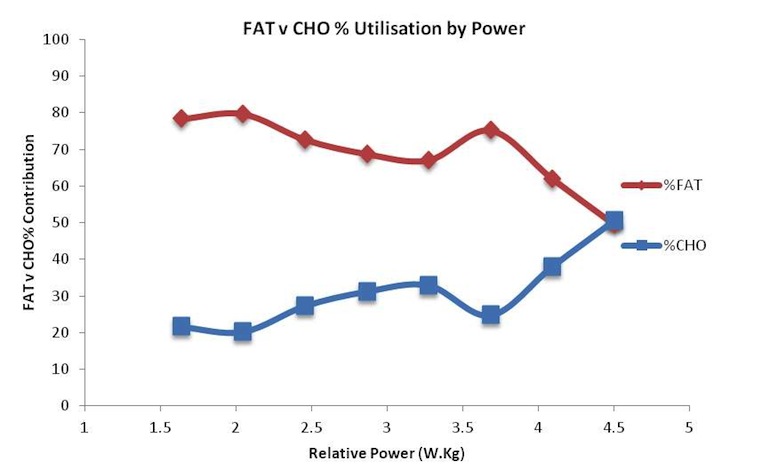 And the result: Both the first and second athletes greatly increase fat burning during the same exercise and greatly reduce carbohydrate burning. Check the charts.
In another experiment, athlete applies low carbohydrate diet for 4 weeks. And results are revealed which are similar to the above experiments. Athlete's aerobic base, 60% VO2, anaerobic limit, and changes in VO2 max points are examined and following results are seen:
Aerobic base: It expresses the line which 50% of the energy is obtained from glycogen instead of fat. By the way, VO2 means the oxygen spent for a minute to produce energy. The athlete passes to 50% glycogen in 104 heartbeats and 1630 ml/min VO2 before the diet and he/she passes to 162 heartbeats and 3690 VO2 after the diet.
%60 VO2: This expresses the power generation line which a person may continue to produce for hours without fatigue. The athlete producing 95% of energy from glycogen right on this line before the diet, begins to produce 22% of it from glycogen after the diet. An incredible rise.
Aerobic limit: It expresses the time where body's lactate production is greater than clearance rate, i.e., indicates the moment where body passes to anaerobic glycolysis from aerobic energy production. This line was at 3100 ml/min VO2 before the diet and rises to 3800 ml/min VO2 after the diet.
Max VO2: This is the point where our maximum power production reaches. The point which we can continue for very short time but produce very high power. The limit was 4960 ml/min VO2 before the diet, and reduces to 4350 ml/min VO2 after the diet.
This is a bad thing. But if you do not consider being an Olympic champion or if you are not a professional athlete this is not something you should think about it. Already low carbohydrate diets are not very suitable for professional athletes.
Being Fat Burner instead of Sugar Burner
After starting about 2-4 weeks to this diet you will be fat burner instead of sugar burner human being as before. This will bring you many benefits.
As a fat burner, you will not end your glycogen resources immediately by using glucose where you should use fat instead and this will provide the required fuel for you for more intensive activities.
As a fat burner, you will not constantly feel hungry. Because glycogen stores end quickly in sugar burners, body immediately sends hunger signals and desires carbohydrate again. However as a fat burner your energy will be already stored in your body.
As a fat burner, you will continuously have energy throughout the day. Unlike sugar burners you will not feel tired at certain times during the day since you will use the fuel which is already stored in your body instead of an energy source which should be taken outside.
As a fat burner, you are going to burn the stored and consumed fats effectively and easily as energy.
As a fat burner you will not gain weight and can easily lose the weights you got until now. You will burn the fat instead of storing it because you start to burn fat instead of glycogen and have easier access to the fat storages. It will be easy for you to burn fat and difficult for you to store fat because your insulin secretion in your body will decrease a lot.
As a fat burner you'll forget the taste of carbohydrate foods and you will not desire high calorie foods.
As a fat burner you will consume protein and fatty foods a lot and your appetite will be decreased because these foods are very satisfactory. Your calorie consumption will fall more since you will reduce the carbohydrates.
You can have your six packs, adonis easily and in a short time.
How much glucose you need?
In a large part of our daily lives we use aerobic energy and the need of our glucose is very low. Our bodies already produce glucose from protein and if you take 50 grams of carbohydrates, this is enough for you. If you are doing sports or very active, then you can increase this to 150 grams at most.
Of course what I said does not valid for professional athletes, people doing physical businesses or people who are engaged in sports every day for a long time as amateur. You can level your daily carbohydrate intake as follows:
0-50 grams: Ketogenic Mode (Very fast weight loss)
50-100 grams: Easy weight loss
100-150 grams: Weight protection
150-300 grams: Weight gain
300+ grams: Dangerous limit
You can find how the diet should be applied, what you should pay attention and the summary of the article in the second article.